Welcome
Thanks for looking in. As a boy growing up in the British Midlands I recall my first real awareness of Normandy's 1944 D-Day landings occurred when I was given a book full of grainy black and white action photographs published for their tenth anniversary. All decadal anniveraries, whether they be of battles or monarch's jubilees, are useful pegs for reappraisal and teaching a new generation its history. This year we have had an extraordinary crop of seventieth anniversaries.
Hong Kong capitulated on CHristmas Day 1941 and less than two months later came the fall of Singapore followed by the Japanese conquest of almost all of South-East Asia. In June there was the loss of the Libyan port of Tobruk and headlong flight into Egypt's western desert to the defensive line starting at the El Alamein railhead where the Panzerarmee Afrika was at last held. August saw the disastrous raid on Dieppe.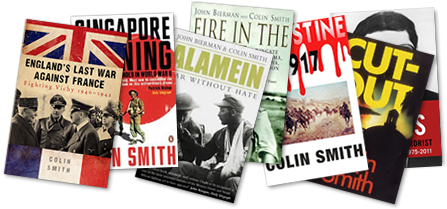 Then on 23 October the came the famous turning of the tide. At Alamein, after meticuous preparation, the newly appointed Montgomery went on the offensive. By 4 November he had lost sbout 13,500 in killed, wounded and missing but Rommel's casualties including prisoners were almsost four times that and he had begun to withdraw. 'We have a new experience,' announced Churchill. 'We have a victory.' On 15 November Britain's church bells, silent since June 1940 when it was decided they would only sound to signal a paratroop assault, pealed for the first time in over two years. This was not only to celebrate Alamein but the successful conclusion of the Anglo-Americans landings in French North Africa that occurred four days after that victory. Operation Torch ended Vichy France's control of colonial Morocco and Algeria and, as Montgomery penetrated Libya, would eventually squeeze Axis forces into a Tunisian pocket that Hitler insisted on reinforcing. By the time it surrrendred on 13 May 1943 a total of 275,000 Axis prisoners had been taken, most of them German. This was more than twice the number captured three month earlier at Stalingrad. The Wehrmacht called it 'Tunisgrad'.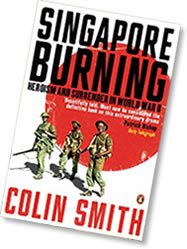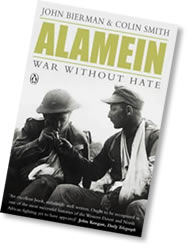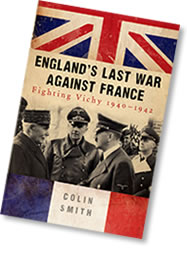 These three of titles, all available as paperbacks and eBooks with excerpts, reviews and summaries accessible on this site, deal closely with the events of Churchill's 'Hinge of Fate'.

Singapore Burning - Heroism and Surrender in World War Two tells the largely untold story of the hard fought campaign down the length of the Malay peninisula that lasted almost two months and preceded the capture on 15 February 1942 of the 'impregnable' British naval base at its foot. 'The worst disaster and largest capitulation in British history,' Churchill called it. About 120,000 prisones were taken, a third of them UK British and the rest mainly Australian and Indian. In private the prime minister expressed his doubts about their fighting spirit. 'They should have done better,' he told his friend Violet Bonham-Carter, the liberal politician and writer.

Undoubtedly there were instances of panic and rank cowardice. Yet during the six weeks campaign in Malaya all the nationalities defending it dislayed at times a dogged resistance, the Australians entering the fray with a devastating ambush. There were also moments of great valour. Between them the army, navy and air force collected four Victoria Crosses - two of them posthumously, one to the captain of a commandeered Yangste river boat. who rammed a Japanese troopship.

The swiftness of the British defeat can mostly be blamed on hubris. Never was an enemy so carelessly underestimated as the Japanese. They thought they were better than their Asian opponents in every way: better equipped, better trained and obviously better suited for modern warfare. They even thought their eye sight made them better airmen. Then in the first 24 hours of hostilities Japanese aircraft sank in 90 minutes the Prince of Wales and the Repulse, the two battleships sent to remind Tokyo who ruled the waves. They went on to establish total air supremacy. Beneath this formidable umbrella their dour infantry glided on bicycles along roads from which their enemy had sometimes been scattered by the only tanks in Malaya. The British had not thought them necessary.

Alamein – War Without Hate was described, in a laudatory review by the late John Keegan, as 'nothing less than a narrative of the whole war on the southern Mediterranean shore from 1940 to 1943'. It starts in the summer of 1940 with Mussolini's attempt to invade Egypt, describes the massive defeat of the Italians by much smaller Brittish forces and the beginning of German intervention under Erwin Rommel. But of course, the climax is the battle itself when, after three years of war, Bernard Montgomery's 8th Army ended the Wehrmacht's unbroken run of victories and inflicted the first major land defeat on Hitler's war machine. In December last year Penguin published the main battle extract as one of their increasingly popular eBook Shorts for which I wrote a new introduction and epilogue.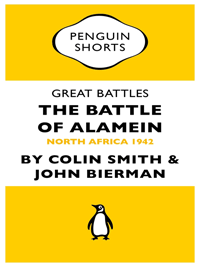 The much praised full length account, written with John Bierman, the former BBC reporter and biographer of Raoul Wellenberg, is also available as an eBook as well as in paperback. Its cover photograph, two wounded soldiers from opposite sides, both with their left arms in bloody slings sharing a cigarettte aptly reflects the book's subtitle - Rommel's Krieg Ohne Hass, the working title for his unpublished memoirs. An account of how exactly Private Sydney May of the Durham Light Infantry, and his unknown German adverssary, got those identical looking injuries arrived from a reader of the original hardback as the paperback edition was going to press and is printed immediately inside the cover before the title page.

Four days after Rommel conceded defeat at Alamein a huge Anglo-American armada appeared off Vichy conrolled French North Africa. The most westerly part of it, 102 ships in all, had sailed directly across the Atlantic from the United States. The commander of the 35,000 American troops aboard was a major-general whose foul-mouthed truculence masked a certain erudition.Visitors to George S.Patton's cabin observed, probabl as intended, that among the ivory-handled pistols and the westerns and thrillers everybody read was an English Koran.

In my England's Last War Against France – Fighting Vichy 1940-1942 I devote some 70 pages to an account of Operation Torch, the Allied code name for the North African landings.Torch was the culmination of the war within a war the British had been waging againt Pétain's Vichy forces ever since the French surrender in the summer of 1940. It started with the deaths of almost 1300 French sailors in the Algerian port of Mers el-Kebir.The British, facing invasion, were determined not to give the Germans the chance to take over any part of France's formidable navy. But when the admiral in charge at Mers el-Kebir was given the choice to either sail with the Royal Navy or scuttle he decided that his recent allies had to be bluffing. These devastasting opening shots were followed by a failed Anglo-Gaullist assault on the West African port of Dakar, then in 1941 a bloody six weeks' campaign to wrest Lebanon and Syria out of Vichy hands and, starting in the Spring of 1942, an even longer one to take over Madagascar before its ports were used by Japanese submarines.

In French North Africa there was good reason to believe that resistance would be token or even nonexistent. Many of its officer corps loathed the British. (Churchill's son Randolph, who was serving as an intelligence officer in a commando unit, wore American uniform.) But they were generally in favour of the Americas and, because President Roosevelt had maintained diplomatic relations with Vichy, his resident North African minister Robert Murphy had been able to recruit the makings of an impressive fifth column. In three days it was all over but in places Vichy forces fought hard and about 1600 Allied troops were killed, most of them American. The French navy inflicted terrible losses on US infantry crammed into small British assault ships, some of them flying the stars and stripes, that were trying to seize the docks at Oran and Algiers. Then most of the French ships left their ports in a gallant and suicidal attempt to break through the Allied fleet and get to Toulon. Almost all of them were sunk or beached.

*

All but one one of my published titles are now available or about to become available as eBooks. (The exception is Cut-Out, a Seventies era thriller first published by Andre Deutsch in London and Viking in New York and some of its fans have persuaded me to do so something about it.) Jerboa Press has reissued as an eBook (with a splendid new cover by David Maclaurin) my historical novel PALESTINE 1917, first published in 1991 by Sinclair-Stevenson under the title The Last Crusade. Set during against the backcloth of General Allenby's First World War campaign to capture Jerusalem from the Kaiser's Turkish allies it appeared in both hardback and paperback editions and was well reviewed. ''Excitingly told, moving, complex and rather challenging,' said the Sunday Times. And the Sunday Telegraph: 'The battle scenes are terrific.'

In April Penguin brought out a much revised eBook edition – it includes a new introduction and epilogue - of my Carlos: Portrait of a Terrorist. First published in 1976, and kindly described in Wikipedia's entry on the Venezuelan terrorist Ilich Ramirez Sanchez as , 'the authoritative biography', it was last updated in 1994. Then shortly before Christmas 2011 I went to Paris to cover his latest trial for the Observer and the London Review of Books. Already 14 years into a life sentence imposed in 1997 for the 1975 killings of three people, two of them French security service officers, another 18 years of incarceration was apparently assured by the passing of a second life sentence for master minding in the early 1980's a bombing campaign in France that left eleven dead.

Macmillan (after some delay) is about to bring out an eBook edition of Fire in the Night: Wingate of Burma, Ethiopia and Zion, the biography I wrote with John Bierman of Orde Wingate, probably the most innovative, and easily the most eccentric general Britain ever produced. The book is currently under option to a New York based producer though how near we are to the start of filming I wouldn't dare to venture. That Wingate deserves the big screen, and would have had it years ago if his widow had not so closely guarded the rights, is beyond doubt.

In recent years I have been giving radio and live audience talks. In March this year I was delighted to be invited onto DOCUMENT BBC Radio 4's award winning investigative history series to discuss the Vichy campaigns. I have also spoken on the same subject at London National Army Musuem's World War Two Celebrity Speakers Day alongside Lord Asa Briggs, Brian Ford, Roger Field and Sean Longden. Other talks have ranged from 'War Without Hate - the North African campaign' ; 'Singapore - its myths and heroism.'; 'Orde Wingate and the guerrillas he led in Burma, Ethiopia and Zion' and 'The Last Crusade - Allenby's 1917 cavalry campaign in Palestine and his capture of Jerusalem from the Ottoman Turks'.

For talks either get in touch through this website, contact richardforeman.chalke@hotmail.co.uk or write to me at POB 20827, Nicosia 1664, Cyprus.